Air ace decorated for daring feats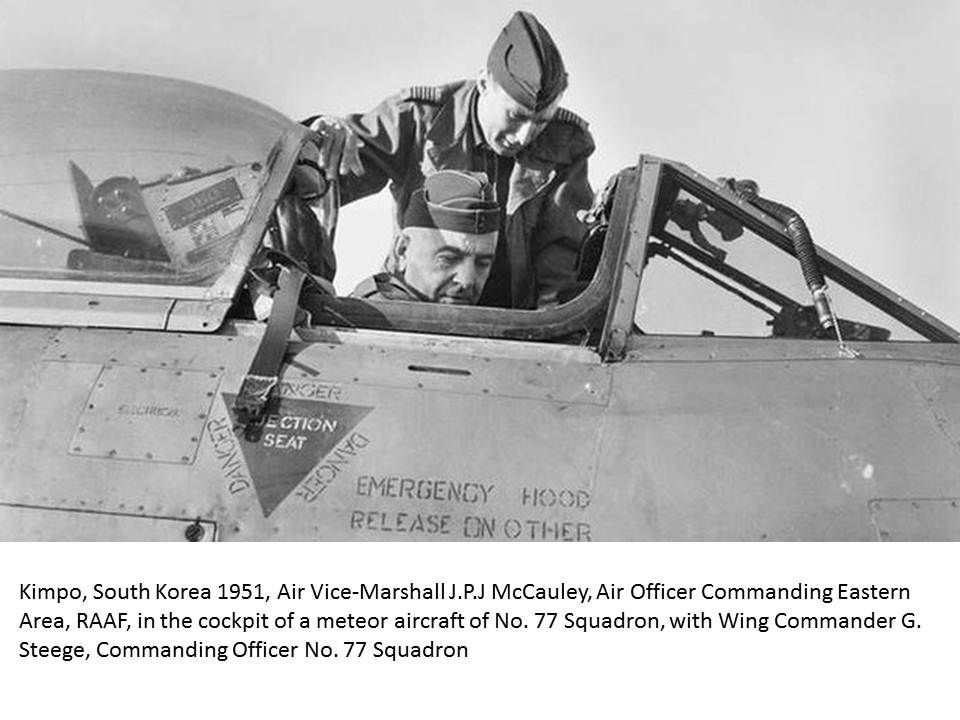 From the Sydney Morning Herald ................
Air Commodore Gordon Steege's record of shooting down Italian aircraft in an antiquated Gloster Gladiator biplane and later his exploits in Hurricanes and Kittyhawks against German Ju 87s and Bf 110s came straight out of a Boy's Own Annual. Combined with his time as a patrol officer in Papua New Guinea immediately after the war, his life became the stuff of legends.
His love of the intimidating tropical splendour of New Guinea was aroused at the outbreak of war in 1939 when he was dispatched to Port Moresby as the adjutant of 11 Squadron with responsibility for two Qantas Short Empire Flying Boats and two Air Force Seagulls.
The squadron's task was reconnaissance, as the government was convinced German raiders would operate in the Pacific as they had in World War I. However, after 11 months, Steege was delighted to see the last of the primitive Seagulls and asked to return to 3 Squadron and go on action in the Middle East.
On his return to Australia in 1940, he was promoted to flight lieutenant and set sail for the Middle East. When the squadron arrived at Ismailia in Egypt, Steege was initially given the task of assembling their Lysander army co-operation aircraft but the squadron was soon reassigned to a fighter role equipped with the Gloster Gladiator. Steege said the Gladiator was ''no Hurricane'' but it was very manoeuvrable.
Advertisement
Steege scored his first aerial victory in the North African campaign when he shot down a CR 42. Combined with General Wavell's offensive against the Italians in the North African campaign, it wasn't long before the young fighter pilot was in the thick of combat. In 1993, Steege described an early morning patrol of six 3 Squadron Gladiators over the Sollum - Fort Capuzzo - Halfaya area in December 1940.
"I saw five Savoia-Marchetti SM79 three-engine bombers coming towards us and we all climbed to catch them but they started to turn away. I had enough climb to make their speed but they were fast. I was just holding them and firing madly into them and obviously peppering them, because when you hit an SM79's gunner he'd let go and the gun would flip up. So a couple of aircraft were hit and one of them was streaming brown smoke and losing oil. Then I was being hit by the rear guns before a couple of them were knocked out. But if you've got five people aiming, somebody's got to hit you.
''There were flashes coming off the metal parts of my aeroplane as their tracer bullets hit and there was a flash on the forward wing strut on the starboard side and it was left hanging by a bit the size of a sliver on a sardine tin. At that stage I ran out of ammunition. There's only one way for me to get out of this and I turned away wondering why the other five fellows of my formation weren't with me. I called, 'Come on, come on', but as I looked over my shoulder I saw a tremendous dogfight going on. We'd been jumped by nine or 12 CR 42s. When I got back to the airfield I landed and my aeroplane slewed sideways. Both tyres were shot through, one strut was badly damaged and the airframe was like a sieve. However, I wasn't hit.''
On promotion to squadron leader in May 1941, Steege was given command of the newly established 450 Squadron at Abu Sueir, Egypt, equipped with P-40 Kittyhawks. He scored a confirmed victory over a Messerschmitt Bf 109 on March 28, 1942. Promoted to acting wing commander, he returned to Australia later that year with a final tally of eight enemy aircraft destroyed, two probables and five damaged.
In March 1944, as part of the RAAF's contribution to the Admiralty Islands campaign, Steege led 73 Wing in support of the US landing at Los Negros. The fighters' main duty was providing ground attack cover for Allied shipping, they also carried out bomber escort, ground attack and anti-shipping missions. In June 1944, he took two squadrons of P40s of 73 Wing from Los Negros to Noemfoor to form 81 Wing.
The RAAF credited his feats: ''AIRCDRE Steege was awarded the Distinguished Flying Cross whilst flying on operations with No 3 Squadron in the Western Desert with outstanding determination and daring, often against numerically superior forces. In September 1941, AIRCDRE Steege was further Mentioned in Despatches for his exceptional ability as a leader of No 450 Squadron which he commanded in the Middle East. For displaying outstanding leadership and skill in leading 73 and 81 Fighter Wings in the South West Pacific, and for his courage and devotion to duty, AIRCDRE Steege was awarded the Distinguished Service Order in 1944.''
Gordon Henry Steege was born in Chatswood on October 31, 1917, the son of William and Ida Steege. He went to North Sydney Boys High School then began his career with the RAAF in 1937, when he enlisted at 1 Flying Training School - Point Cook. He also did the No 22 flying training course and graduated with a distinguished pass.
Steege's resigned from the air force in December 1946 as a group captain to become a patrol officer in Papua New Guinea, which he thoroughly enjoyed. However, he subsequently reapplied to the RAAF and was granted a permanent commission in June 1950 with the rank of wing commander.
In 1951, Steege was posted to Kimpo, South Korea, as commanding officer of 77 Squadron, shortly after its conversion from P-51 Mustangs to Gloster Meteors. One of his first actions, following discussions with the US Fifth Air Force, was to curtail the squadron's operations in ''MiG Alley''. Although some Korean veterans disagree, Steege was convinced the Meteor was outclassed in air-to-air combat by the nimble MiGs and recommended the British-built aircraft be restricted to a ground attack role. In this he was supported by Air Marshal Jones, then Chief of the Air Staff.
In 1952, he made an official visit to Malaya and Indo-China to study the problems of offensive air support to land troops there and, in a letter, once talked about the French air support re-supplying a base near Dien Bien Phu. Among the military supplies, he said, were barrels of red wine and canvas bags of ice to keep the wine cool, and the French dispatchers, without safety harnesses, pushed cargo out of the aeroplane door and used their feet to stop cargo sliding in the hold.
After returning to Australia, Steege held a number of senior appointments including the School of Land/Air Warfare from 1952 before taking command of RAAF Base Canberra. He was promoted to group captain in 1958 before his appointment as a senior planner at the SEATO Military Planning Office in Bangkok.
Steege returned to the Department of Air in December 1961 as director of plans. Promoted to air commodore, he commanded RAAF Base Amberley, Queensland and RAAF Base Butterworth, Malaysia, in the mid-60s. He then served as senior air staff officer at Headquarters Operational Command in Glenbrook until retiring from the RAAF on October 31, 1972. He met Jennifer Fisher in 1987 while sailing at Pittwater and they were partners until they married in 2004.
Steege remained active in retirement and worked as a consultant to aeronautical defence companies until 2005.
Steege is survived by Jennifer, son Peter, grandaughter Kathleen and stepdaughter Diana and her children Aleka and Marlowe. The funeral will be on Monday, September 9 at 11.30am at St David's Anglican Church, Palm Beach.
Read more:
http://www.smh.com.au/comment/obituarie ... z2eNEwzTmN