Air Chief Marshal (RAAF)

Posts: 3635
Joined: Mon Jul 06, 2009 10:55 am
Location: Gold Coast, Queensland - Australia
Found these photos and link ..............
John
This photo was also with the collection.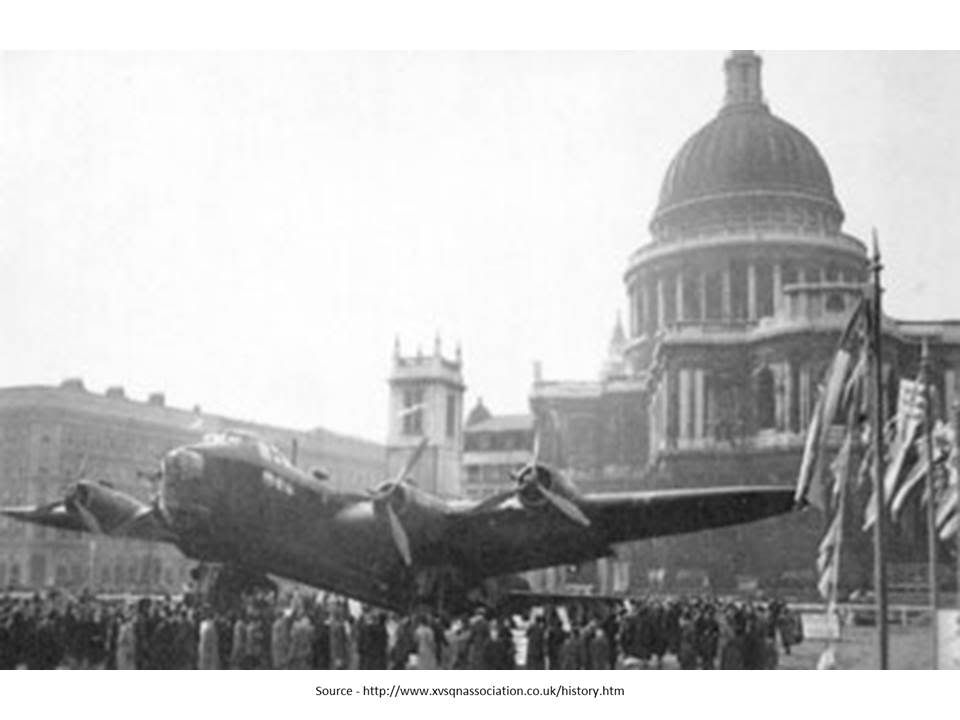 K for Kitty Crew - Winthorpe, 1661 HCU's - stirlingaircraftsoc.raf38group.org/
630 Squadron - East Kirkby
" There is nothing glorious about war with the exception of those who served us so valiantly"
---
Group Captain

Posts: 817
Joined: Sat Jan 15, 2011 7:05 pm
Location: St Neots, Cambridgeshire
Is that the one that the Luftwaffe later repaired and stuffed the nose full of straw?

JL
---
Hello,

I don't think that it is the Luftwaffe captured Stirling. This one is too much damaged and the captured Stirling had always its undercarriage.
Kind regards.

Bruno
---
Flight Lieutenant

Posts: 298
Joined: Mon Mar 26, 2012 10:05 am
Location: West Midlands UK
Hi Chaps,
Looking at the line of trees behind the Stirling in pic 2. it was a close call for this crew. The port wing seems to have vanished?
If the a/c had clipped the trees though, i would have expected the fuselage to have spun around to port , due to the colliision?
Its hard to say if the wreck, is in its original rest position. Maybe the Stirling has been placed ihere or quite likely dragged,.....maybe so as to be nearer to a road?..... the port wing already removed and scrapped to get the bulk of it through the tree line nearer the crane in pic 1.
The efficient looking Luftwaffe "tatters" seem to be transporting the a/c in large pieces, not the usual metal butchery? Probably easier to transort away in large sections.
I would have thought the last time this Stirling was airborne was when it was suspended from the crane. I seem to remember, the "captured Stirling" only suffered nose damage and was" patched up"
Mind you, if you think the pilot of the Stirling in pic 2 made a good landing, what about the chap in pic 3 .........who swooped low over St Pauls and made a 3 pointer in the square below, without buckling the U/C "absolutely wizard prang what"
Regards NM
"Rule Britannia two tanners make a bob,three make eighten pence and four two bob"!
---
Group Captain

Posts: 817
Joined: Sat Jan 15, 2011 7:05 pm
Location: St Neots, Cambridgeshire
I'm convinced
---
Leading Aircraftman

Posts: 3
Joined: Mon Sep 11, 2017 8:01 pm
The fuselage in the crane is the Stirling N6045 U crashed in Holland 8 september 1941. Captured by the German luftwaffe and trasported for research to Utrecht.
---
Flight Lieutenant

Posts: 354
Joined: Fri Oct 15, 2010 12:31 am
Hi

I can't see the pictures - something about upgrading photobucket??


Cheers
James
---
Hi James,

Unfortunately we don't have any news about John who posted the photos.
The 3 photos could be the ones below.
Regards.

Bruno
Attachments

Slide10-11.jpg (50.13 KiB) Viewed 4056 times

Slide11-8.jpg (40.05 KiB) Viewed 4056 times

Slide9-13.jpg (38.18 KiB) Viewed 4056 times
---
Flight Lieutenant

Posts: 354
Joined: Fri Oct 15, 2010 12:31 am
Hi Bruno

Thanks for that! I'm interested in all photos of Stirlings in the batch that included N6012


Cheers
James
---
Leading Aircraftman

Posts: 3
Joined: Mon Sep 11, 2017 8:01 pm
The first two pictures are both from the salvage of the Short Stirling N 6045 U crashed 8-9-1941 in Hengelo Gld. (Bronckhorst)
Captain Wallace-Tarry Navigator Richrad Pape who wrote the book Boldness be my friend about this crash and his escapes.
Foto 1 is taken on the kai in Zutphen where the plane was transported and foto 2 is the salvage crew at the crashsite in Hengelo Gld. in Holland
---