3 Group Researcher
Posts: 952
Joined: Wed Sep 09, 2009 6:58 pm
Location: LONDON
Hi Max,
My misses say's that all the time !!!!
OK mate as and when.
Steve
No.218 (Gold Coast) Squadron 1918-1945
The Nomads
---
Air Chief Marshal (RAAF)

Posts: 3635
Joined: Mon Jul 06, 2009 10:55 am
Location: Gold Coast, Queensland - Australia
K for Kitty Crew - Winthorpe, 1661 HCU's - stirlingaircraftsoc.raf38group.org/
630 Squadron - East Kirkby
" There is nothing glorious about war with the exception of those who served us so valiantly"
---
Wing Commander

Posts: 719
Joined: Wed Jul 22, 2009 1:37 pm
Location: Dorset but nearly Somerset and Wilts
Contact:
Let's hope he likes this then John!!! The wings and tailplanes in place, though not yet secured by glue: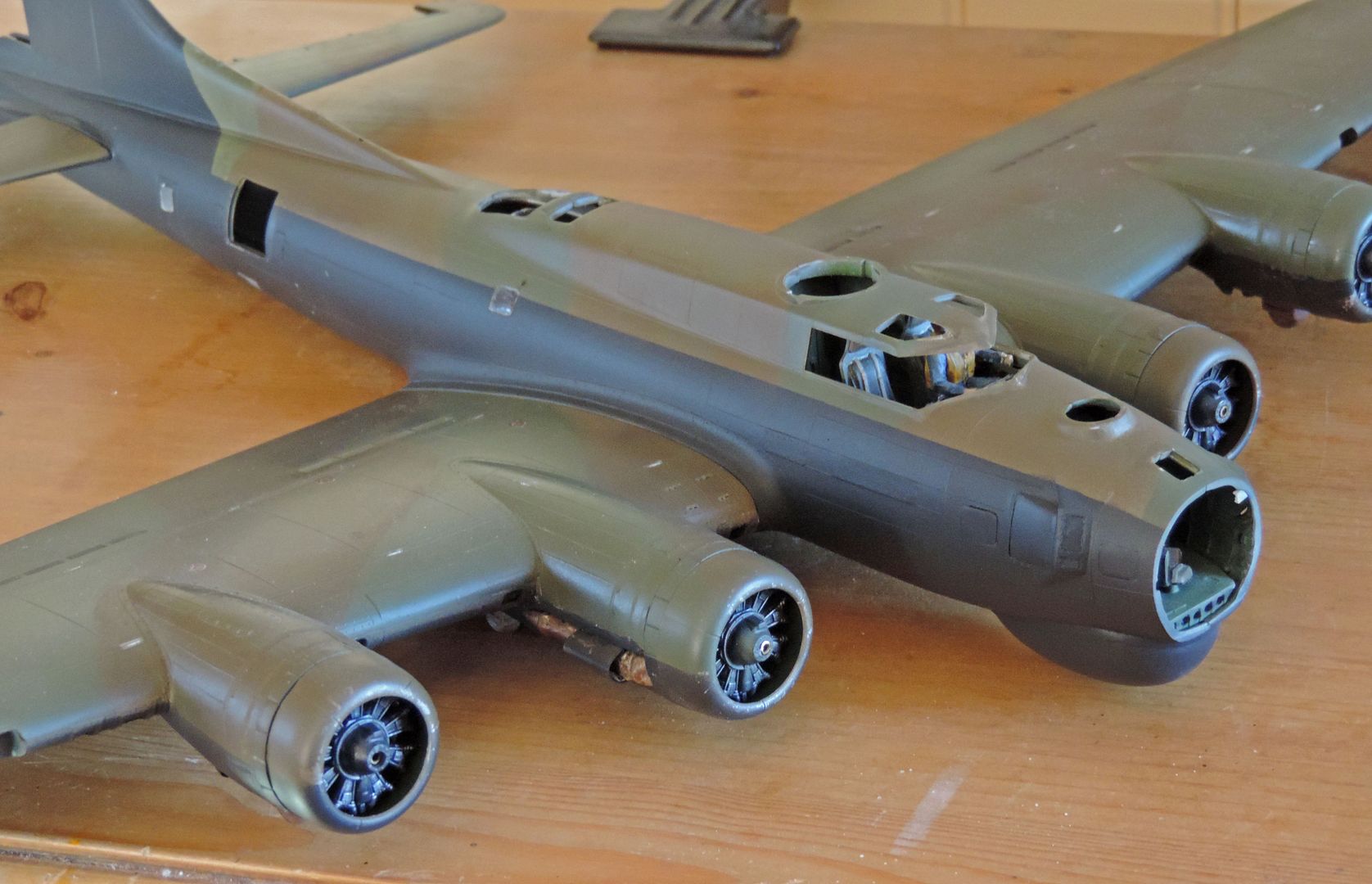 I'll be doing the roundels, squadron codes and serials on the fuselage next then finally fixing the wings etc. Lots of fiddly glazing to do then before the undercarriage then the aerials, guns and lots of sticky-out bits. She's a big old bird.
---
Warrant Officer 2nd Class

Posts: 51
Joined: Sat Nov 17, 2012 9:50 am
Location: Rushden, Northamptonshire
What's not to like, that looks magnificent
The size took me back a bit as I had forgotten, until I re read the first post, that it was a 1/48 kit
Gary
---
Hi Max
A most interesting build of a most interesting subject. There's a lot of mileage still to be obtained from these old kits it's just a question of whether you prefer shake and bake or employing basic modelling skills to raise the bar and achieve the desired result. The time and work that has gone into this build is commendable. Can't wait to see the finished model; I'm sure it will be well worth the wait.
Best wishes
Mike
---
Wing Commander

Posts: 719
Joined: Wed Jul 22, 2009 1:37 pm
Location: Dorset but nearly Somerset and Wilts
Contact:
Thanks Gary, I must admit the overall size took me aback a bit when I slotted the wings in, no idea where I'm going to display it when it's finished, it certainly won't fit into my present cabinet but with all the aerials and fiddly bits it needs protection not least from the dust!

Mike, I've never been a "shake and bake " modeller, I wish I was sometimes, it would make life easier! I also fail to see the endless fascination and attraction of yet more and more Spitfire kits. I can't understand why a decent Lancaster, let alone a Stirling or Halifax hasn't been made in 1/48th scale, but I'd settle right now for a nice little Percival Proctor. Love the Stirling, I've been following it on Britmodeller too!
Regards
Max
---
.unlike David's who most assuredly will be going down

Quite probably. For those of us who believe I will explain one of the myths about Heaven and Hell. If you think about it Hell would much appeal to the sinners - those who fornicate and imbibe the evil drink and generally behave in a disreputable manner, because they would be among their kind and could indulge to excess. Thus they in fact go to Heaven where they are continually admonished by St. Peter, are made to do good works and are tempted by untouchable Angels, denied alchohol and so are quite simply condemned to a life of torment. Those who however have lived a saintly and abstemious life, finally get their reward - a life of uninhibited lusting boozing and a completely endless sinful existence, in the other place.

And by the way Heaven is not "up' and neither is Hell "down". They are adjacent (that is side by side, adjoining).

The model continues to demonstrate your ability. Maybe you could, when finished, get someone to take a picture of you lying in the bomb aimers position?
---
Corporal

Posts: 7
Joined: Mon May 27, 2013 10:27 pm
Location: South of the Capitol of the Great White North
Hi Max,

Coming along nicely! If you're looking for a place to display, I could suggest one LOL

Cheers!
cintrepd

We will remember them
---
May be a delay on this - Max is said to be in Africa and a chum of mine there who studies and lectures in anthropology claims they have found the missing link - I think from what he says in fact they may have come across Max, sitting in a baobab (Adansonia) tree!!
---
Wing Commander

Posts: 719
Joined: Wed Jul 22, 2009 1:37 pm
Location: Dorset but nearly Somerset and Wilts
Contact:
Cheeky David! Yes I'm still in Africa, Zimbabwe right now and a wonderful place just south of Gweru where I'm walking with lions tomorrow......no jokes about being tough old meat of whatever!
Max
---